Make all your picks before the tournament starts.
Make sure your bracket is complete before the start of the tournament.
Be sure to fill out your entire bracket before the first game. Come back as often as you like to check your progress.
Selection Sunday Starts In:
countdown-clock here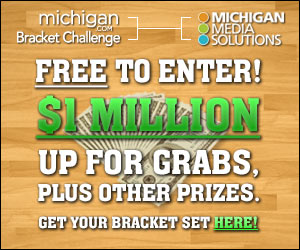 Welcome To The $1,000,000
March Bracket Challenge
Just make your picks for each game before the tournament starts.


Plus follow U-M and MSU on their marches in the tournament.

Freep.com/MichiganWolverines

Detroitnews.com/MSU
Latest Talk
Michigan Wolverines #1!!!
MORE
WANT TO PLAY ON YOUR MOBILE?
We'll text you a link to play!
GET LINK